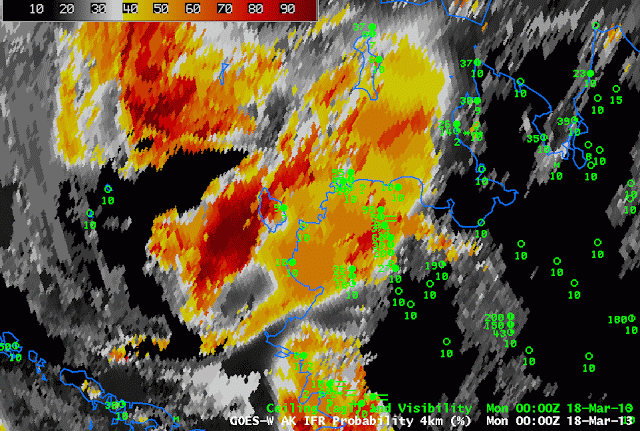 GOES-R IFR Probabilities from GOES-West over Alaska and the Bering Sea, half-hourly from 0000 UTC through 1500 UTC on 18 March 2013
Even though Alaska is at high latitudes, and GOES Imagery there is burdened with degraded resolution, the temporal aspect of the data can give useful information.  As an example, consider the animation of GOES-R IFR probabilities near Bethel Alaska along the west coast of Alaska.  Note that Bethel AK, in the center (nearly) of the image, is reporting MVFR/VFR conditions, with IFR conditions along the coast — at Kipnuk and Toksook — and offshore at Mekoryuk on Nunivak Island as well as St. George and St. Paul Islands.  The fused GOES/Rapid Refresh data is able to delineate correctly the regions with IFR conditions along the coast and offshore from the regions with MVFR/VFR conditions to the east.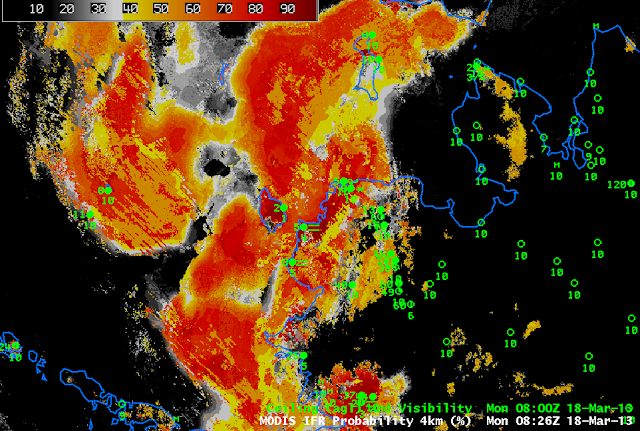 GOES-R IFR Probabilities computed from MODIS data over western Alaska, 0826 UTC 18 March 2013
MODIS data can also give information over Alaska, and the 1-km resolution offers important information.  Bethel sits in the region of relatively low IFR probabilities west of the higher probabilities along the coast.