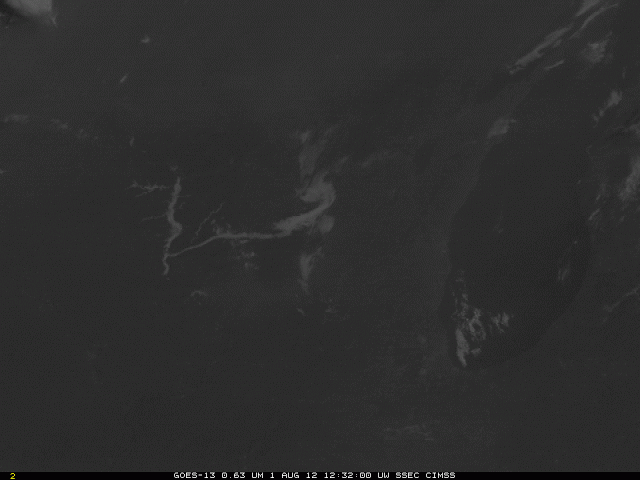 GOES-East visible imagery over Wisconsin, 1232 UTC 1 August 2012
Fog developed over southern Wisconsin overnight on 1 August under clear skies and light winds.  The Wisconsin River, the Mississippi River and the Kickapoo River are starkly outlined by the fog that formed.  How well did the GOES-R IFR products do in diagnosing this event?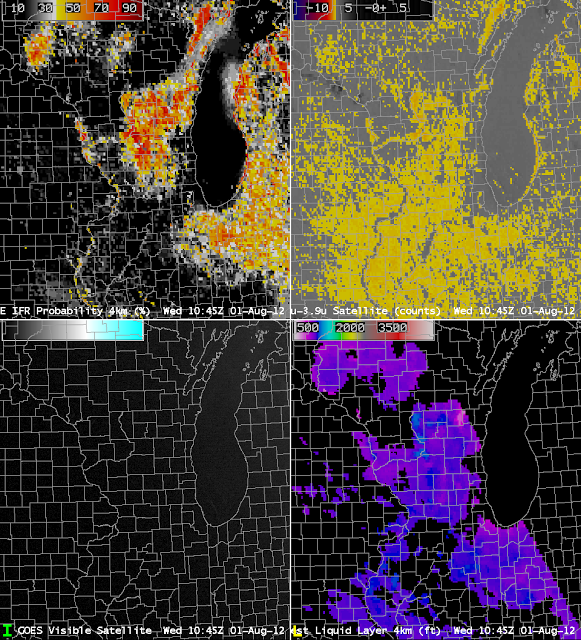 GOES-R IFR Probabilities (Upper Left), Traditional Brightness Temperature Difference Fog Product (upper right), Visible Imagery (lower left), GOES-R Cloud Thickness (lower right), all from 1045 UTC on 1 August 2012
Note that the IFR Probabilities (above, upper left) are highest over south-central Wisconsin.  In addition, a ribbon of higher values snakes down the Wisconsin River, and down the Mississippi River, in accordance with observations at 1232 UTC.  In contrast, the brightness temperature difference field shows returns suggestive of fog over most of Illinois and eastern Iowa, where fog was not observed just after sunrise.  The curious lack of fog signal over the Mississippi and Illinois Rivers likely arises from the co-registration error (discussed here) that also causes the spike in brightness temperature difference signal along the southeastern shore of Lake Michigan.
The thickest clouds are diagnosed at 1045 UTC (the last such image made before twilight conditions make the product unreliable) show the thickest clouds over central Wisconsin.  The 1415 UTC visible image, below, shows the region where fog/low clouds have lingered longest:  over central Wisconsin.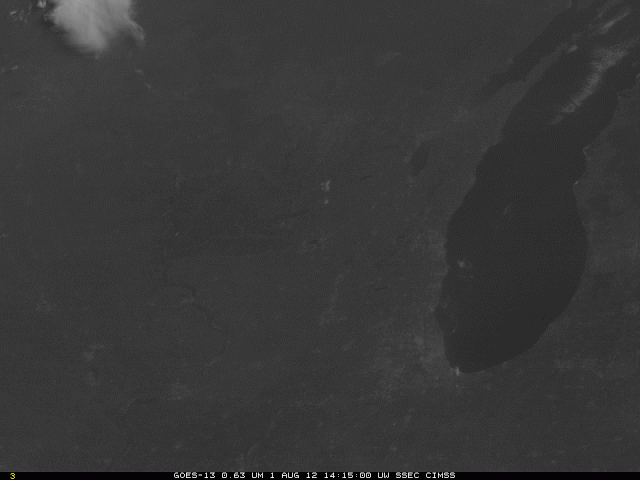 Visible Imagery from GOES-13, 1415 UTC on 1 August 2012
Again, GOES-R IFR Probabilities accurately outlined the region where fog was present (and equally importantly, where it was not).  The thickest clouds were the last to erode.  The relationship between fog thickness and dissipation time is given here.
Data from the GEOCAT browser at CIMSS shows how the GOES-R IFR Probabilities field evolved with time in the early morning hours of the 1st (below)