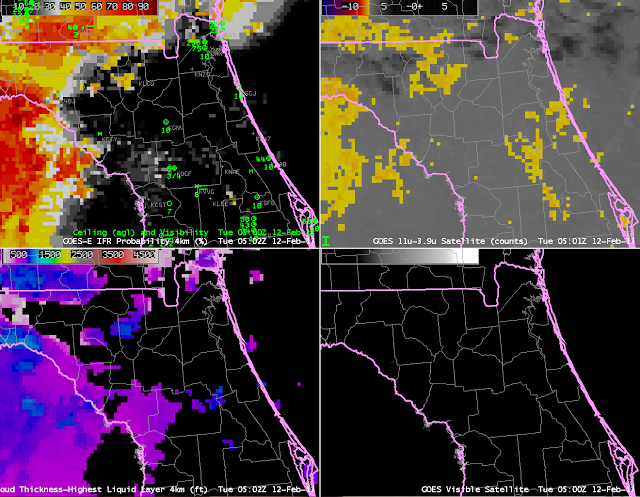 GOES-R IFR Probabilities (Upper Left), GOES-R Cloud Thickness (Lower Left), GOES-East Brightness Temperature Difference (10.7 µm – 3.9 µm) Product (Upper Right), GOES-East Visible Imagery (Lower Right), 0500 UTC on 12 February.
This example shows how the IFR Probability Values changed hourly as IFR conditions developed over the north-central Florida peninsula.  IFR Probabilities around Gainesville — KGNV — are below 10%.  These small values persist through about 0545 UTC, but by 0615 UTC, below, they have increased to around 20% although brightness temperature difference returns have not substantively changed.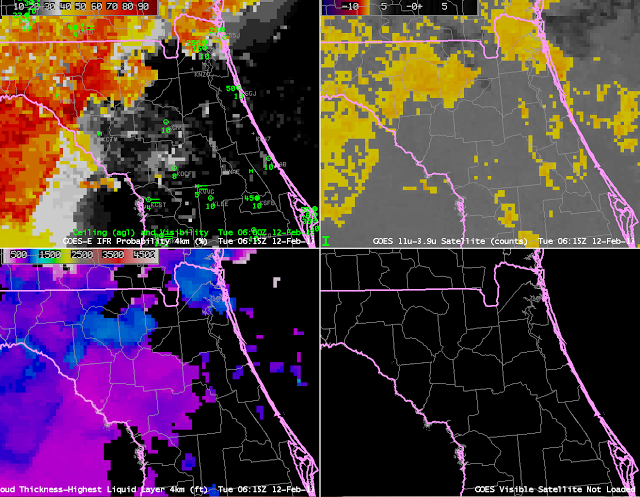 As above, but at 0615 UTC
By 0702 UTC, below, values continue to increase, to around 30%, but Gainesville continues to report MVFR conditions.  There is a location nearby, however, over eastern Alachua County, where Probabilities exceed 70%.  Abundant surface waters in eastern Alachua County — Newnans Lake, Santa Fe Lake, Ledwith Lake, Orange Lake and Lochloosa Lake — may have contributed to the initial fog development there.  Note also that the traditional fog detection product, the brightness temperature difference, is also starting to show enhanced returns.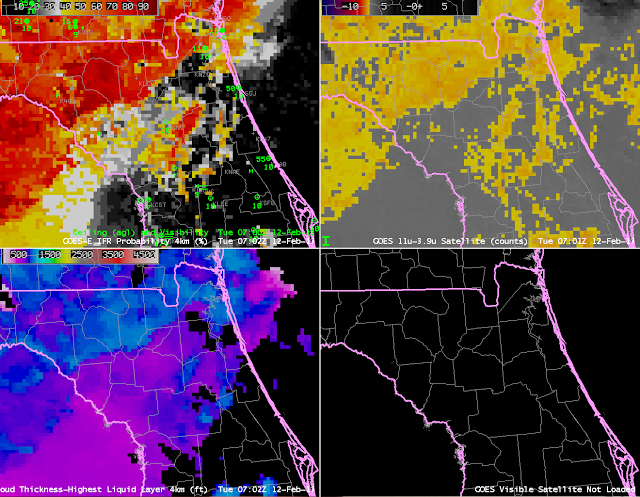 As above, but at 0702 UTC.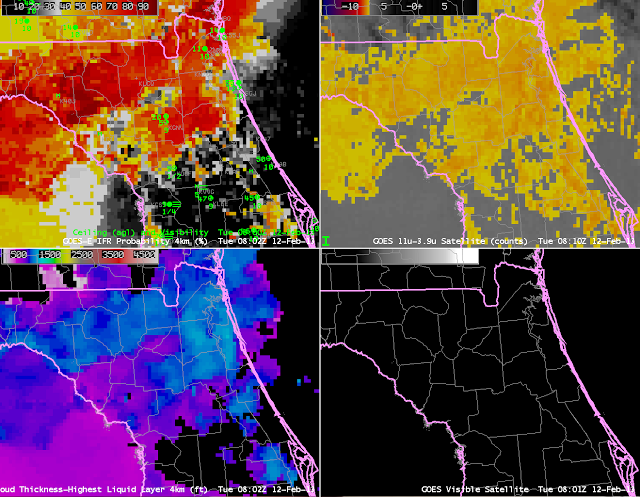 As above, but at 0802 UTC
Between 0700 and 0800 UTC (above), probabilities at KGNV increase from 31% to 80%.  The increase largely results from increases in the satellite predictors of low clouds/fog, as shown in the rapid increase in the brightness temperature difference signal around Gainesville.  Nevertheless, ceilings and visibilities at KGNV have not deteriorated to IFR conditions at 0800 UTC.  IFR probabilities remain between 70 and 80% from 0800 to 0915 UTC (below), at which time IFR conditions are reported at the Gainesville airport.  From 0915 UTC to 1215 UTC, IFR conditions continue at the airport, and IFR probabilities are from 85% to 95%.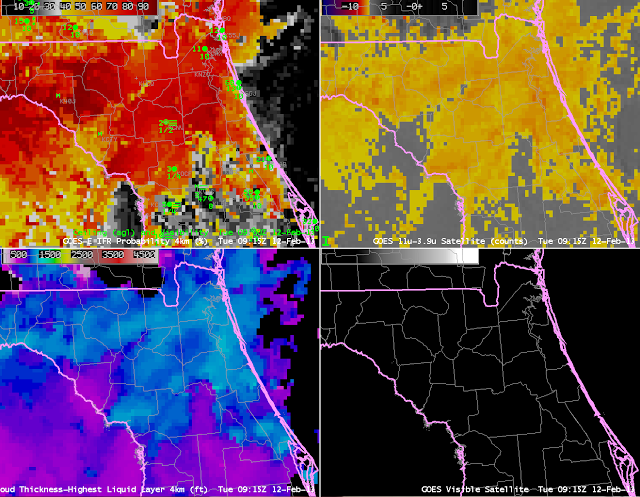 As above, but at 0915 UTC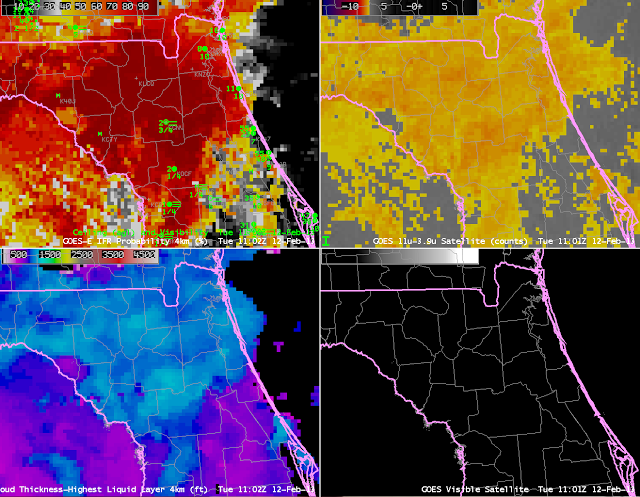 As above, but at 1002 UTC.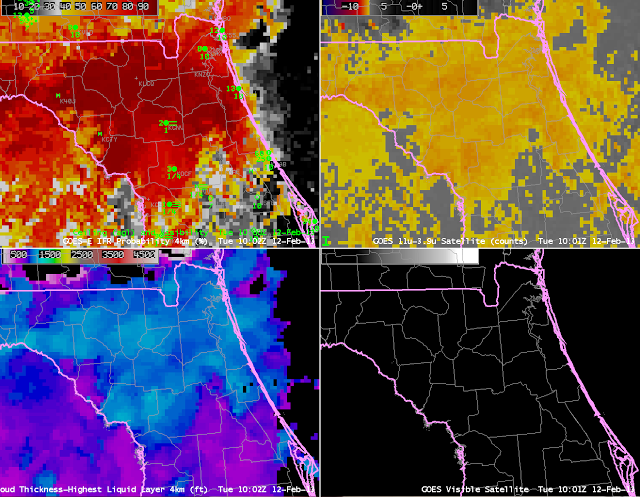 As above, but at 1102 UTC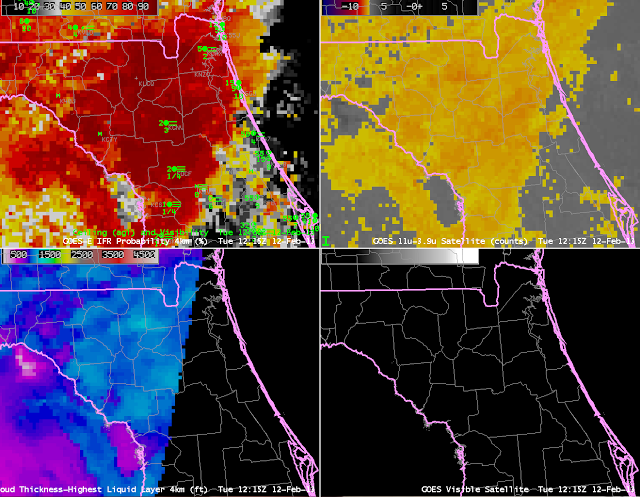 As above, but at 1215 UTC