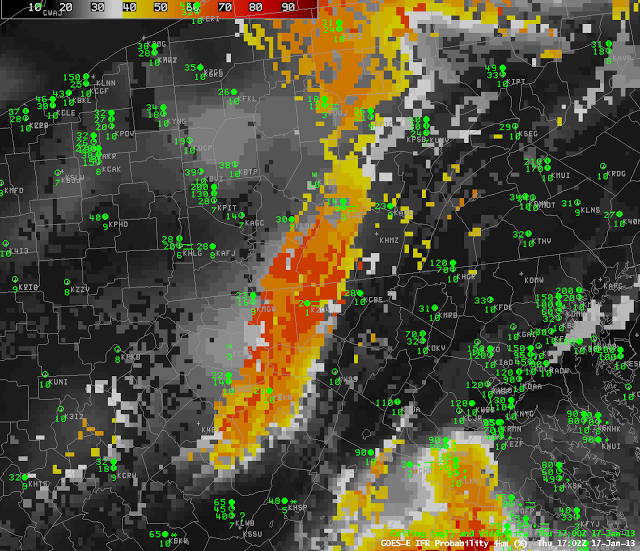 GOES-R IFR Probabilities computed from GOES-East, 1700 UTC on 17 January 2013
 The image above shows how IFR probabilities can maximize over higher terrain where mountains rise up into a somewhat uniform cloud deck.  IFR probabilties are highest over the Laurel Highlands of Pennsylvania southward along the spine of the Appalachian Mountains in West Virginia (and also in the highlands of north-central Pennsylvania).  IFR Conditions are reported at K2G4 in Maryland, which is 890 meters above sea level, and near-IFR conditions are present at Johnstown, PA (KJST) and Elkins, WV (KEKN), two stations above 600 meters above Mean Sea Level.  In contrast, KCBE and KW99, Cumberland Maryland and Petersburg, WV, are both lower than 300 m above sea level, and IFR condition are not present there.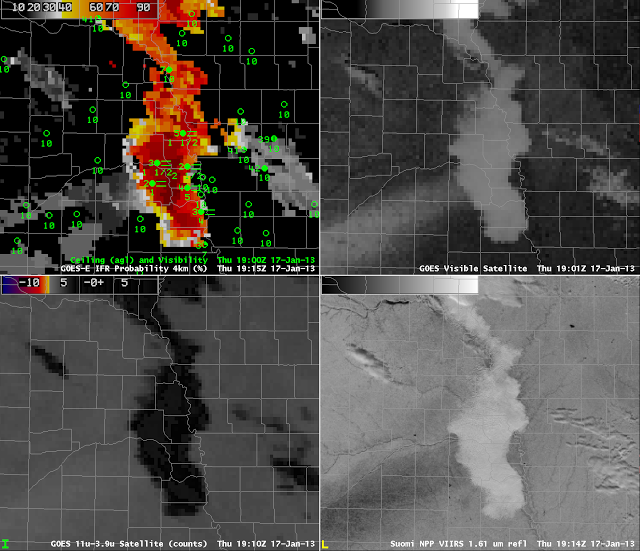 GOES-R IFR Probabilities (Upper Left), GOES-East Visible Imagery (Upper Right), GOES-East Brightness Temperature Difference (Lower Left), Suomi-NPP 1.61 µm Reflectivity (Lower Right)
GOES-R IFR probabilities maximized near the Missouri River Valley in eastern Nebraska around mid-day on 17 January 2013.  IFR conditions were reported.  The largest visibility restrictions appear to occur over a band of snow that extended southwest to northeast, roughly parallel to the N. Platte River, and IFR probabilities are highest in that region. The snow band shows up well in the visible imagery, and as a black swath in the 1.61 reflectivity (snow absorbs radiation at 1.61µm).