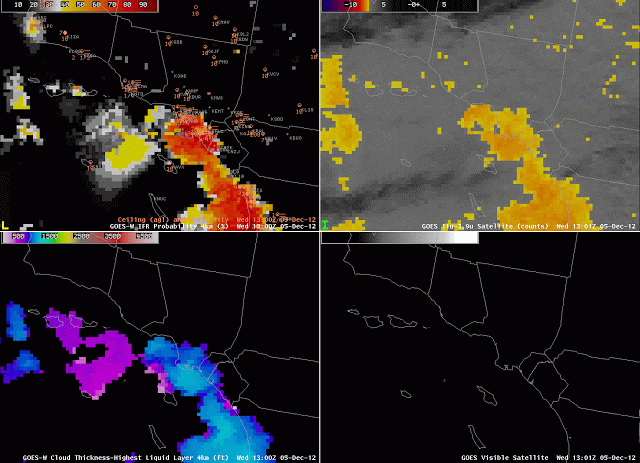 GOES-R IFR Probabilities from GOES-West (Upper Left), Traditional Brightness Temperature Difference (10.7 µm – 3.9 µm) field from GOES-West (Upper Right), GOES-R Cloud Thickness from GOES-West (Lower Left), GOES-West visible imagery (Lower Right)
Dense fog developed over portions of the Los Angeles basin in the morning on 5 December 2012, and regions affected included Los Angeles International Airport.  The GOES-R IFR Probability product, above, shows the fog was most prevalent from Santa Monica to points south, mostly within a couple miles of the coast.   In particular, the GOES-R IFR probability field depicted the sharp edge to the fog field.  Surface visibilities at LAX improved to above 1 mile shortly after 1800 UTC.
From the National Weather Service in Los Angeles:
CAZ041-051700-
 /O.CON.KLOX.FG.Y.0020.000000T0000Z-121205T1700Z/
 LOS ANGELES COUNTY COAST INCLUDING DOWNTOWN LOS ANGELES-
 INCLUDING THE CITIES OF...MALIBU...SANTA MONICA...BEVERLY HILLS...
 HOLLYWOOD...LONG BEACH
 628 AM PST WED DEC 5 2012

 ...DENSE FOG ADVISORY REMAINS IN EFFECT UNTIL 9 AM PST THIS
 MORNING...

 * VISIBILITIES...ONE QUARTER MILE OR LESS AT TIMES.

 * TIMING...THROUGH EARLY THIS MORNING...WITH IMPROVING 
   VISIBILITIES BY MID MORNING.

 * IMPACTS...TRAVEL WILL BE HAMPERED BY THE DENSE FOG IN AND 
   AROUND THE LONG BEACH AREA...TO GARDENA...AND WEST LOS ANGELES 
   INCLUDING LOS ANGELES AIRPORT.

 PRECAUTIONARY/PREPAREDNESS ACTIONS...

 A DENSE FOG ADVISORY MEANS VISIBILITY WILL FREQUENTLY BE REDUCED
 TO ONE QUARTER MILE OR LESS. IF DRIVING...SLOW DOWN...USE YOUR
 HEADLIGHTS...AND LEAVE PLENTY OF DISTANCE AHEAD OF YOU. FOG CAN
 ALSO MAKE ROAD SURFACES SLICK SO AVOID USING EXCESSIVE SPEED.