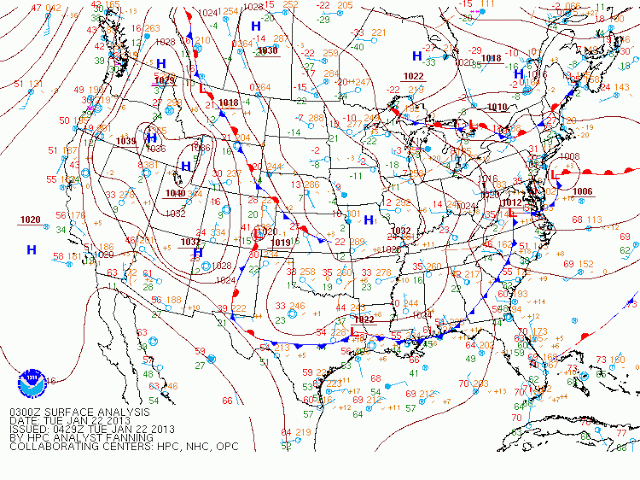 Surface Weather Maps, 0300, 0600 and 0900 UTC on 22 January
High Pressure with origins in the Arctic has pushed cold air into the central United States.  The western edge of the cold dome shows as a stationary front that stretches from central Kansas northwestward into Montana and beyond.  During the early morning hours of 22 January, a small region of IFR conditions developed over western Nebraska.  How did the GOES-R Fog products do in describing this region?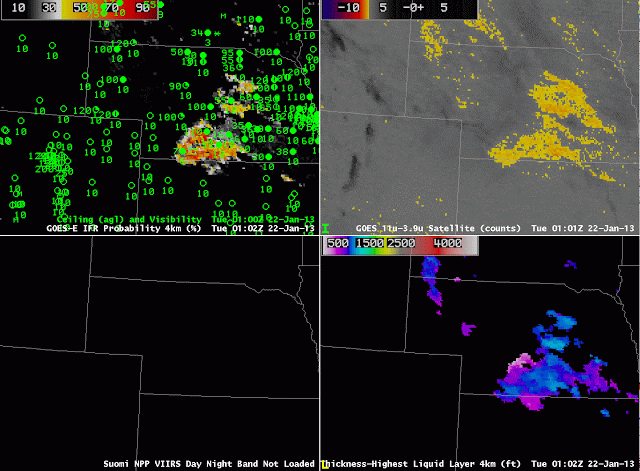 GOES-R IFR Probabilities and surface plots of ceilings/visibilities (Upper Left), GOES-East Brightness Temperature Difference (Upper Right), Suomi/NPP Day/Night Band (Lower Left), GOES-R Cloud Thickness (Lower Right) for various times from 0102 through 1102 UTC 22 January 2013
The animation above shows increasing IFR probabilities over southwest and west-central Nebraska over the course of the night in a region where IFR conditions are developing.  Note how the IFR probabilities are not enhanced in regions where the traditional brightness temperature difference product does have a signal — over eastern Nebraska and northeastern Kansas.  In these regions, the Rapid Refresh Model fields likely include no saturation in the lowest model layers.  Suomi/NPP Night-time Visible imagery, below, at 0752 UTC and at 0933 UTC also show the extent of the fog and low stratus.   However, it's impossible to tell from the satellite where the visibility obstructions are most likely — that's why the model data are important in this fused product.  Note the distinct change in illumination between 0752 UTC and 0930 UTC.  The Waxing Gibbous moon set around 0900 UTC.
As above, but for 0745 – 0800 UTC on 22 January 2013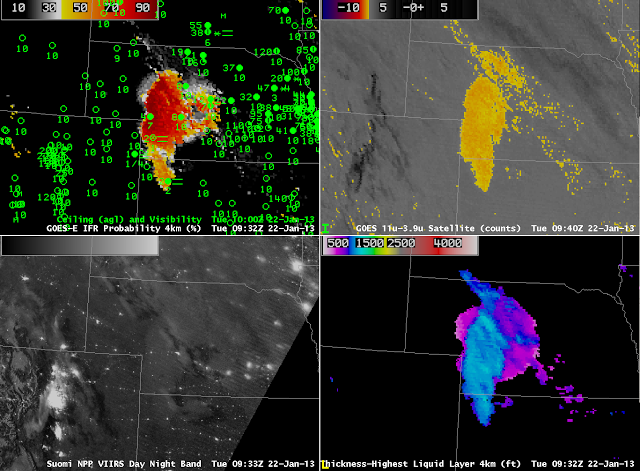 As above, but for 0930 UTC on 22 January 2013